AFA GPS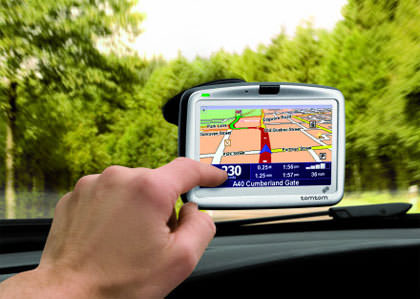 Find the sights. Lose the traffic
When travel takes you someplace new, there is no time to play hunt-and-seek. With AFA GPS you can look up addresses, hotels and attractions - all at the touch of the screen.
Choose your destination and the GPS does the rest, routing you there with clear, turn-by-turn directions that announce streets by name. It gets easier with the hands-free calling feature when paired with phones with Bluetooth capabilities.
Drive with confidence, no matter where you are. No more fumbling with maps, hunting for street signs or having to ask for directions. There's less wasted travel time for business renters and more peace of mind for leisure renters.
AFA GPS uses the Global Positioning System (GPS) - with smart sensors to achieve the accuracy needed for true turn-by-turn guidance 
Information at your fingertips
Touch a few buttons and AFA GPS delivers clear voice prompts and visual directions.

Turn-by-turn directions, voice and visual
Select your destination from a pre-programmed list of points of interest, or by entering a specific street address, an intersection or a freeway entrance or exit. AFA GPS guides you, turn by turn, to any destination you choose in the database. Your unit's screen display provides clear, easy-to-understand visual directions, and a friendly voice prompts you when to make each turn. You can keep your eyes on the road while you're driving, because all you have to do is listen.
Voice activated navigation
No issues with spotty cell coverage
Large screen
Over 8 million points of interest
Hands-free calling
Expanded junction view function
Intelligent transportation
AFA GPS uses a series of large digital street maps specifically designed for car navigation systems. Maps show freeways, state highways, country roads and city streets for medium and large cities. Also included are thousands of points of interest. Select from a list of hotels, restaurants and other popular travel destinations. Your AFA GPS unit includes all available digital maps .You never have to stop to load new map data.  
A snap to use
AFA GPS is completely user-friendly. Controls and menu are simple and clearly intuitive, with bold icons leading the way through your unit's features. Enter your destination , the streamlined feature that lets you select any city or street with just a few touches of the keypad. Because AFA GPS is so easy to operate, it's your smart resourceful traveling companion from the very first time you use it. You're free to devote your attention to the matters that are most important to you - your business appointments, or the pleasures of sightseeing.  
You're always in control
AFA GPS delivers the information you need to navigate your Hertz rental car smoothly and easily. And it provides options so you can select the route that's right for you. Use the Route Method feature to choose among the shortest route time, the most use of freeways or the least use of freeways. Miss a turn? Don't worry, AFA GPS can quickly re-calculate a new route to your destination. And you always know where you are. The Instant Locate feature determines your precise location at the push of a button. If you ever need help, you can tell roadside assistance exactly where to find you.